Ryan W. Miller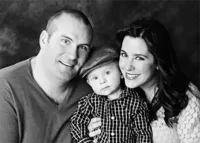 I have no personal miracle story of Chiropractic. I have, however, witnessed the healing power of the human body and the miracles that chiropractic care provides.
I was introduced to Chiropractic care by my cousin, but it wasn't until I began more in-depth research and studies that I realized chiropractic was the field which fit with my interests, motivations and passions perfectly. It was an obvious choice to pursue a career as Doctor of Chiropractic, and help others enjoy lives free from pain, injury, disorder and disease.
In 2001, I graduated from Life University and decided to return home to practice. After 2 years of associateship in Garden City, MI I decided to open a practice with my cousin, Dr. Mark Miller.
I have now been a Chiropractor for 10 years, and my goal is to help as many families as possible live healthier lives. I treat each patient as though they are family, because that's how I want to be treated. I strive to be the best at what I do, which is helping people regain their quality of life. I was recently honored to be named one of Hour Detroit Magazines "Top Chiropractors of 2011".
Wellness is a lifestyle, not a pill taken daily to mask the symptoms. Together we will help you to reach that lifestyle.
I want to thank you for taking the time to learn about me. I look forward to learning all about you very soon.