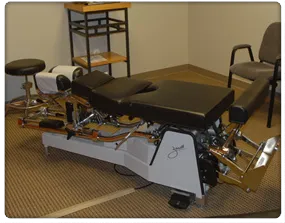 Your neck, also called the cervical spine, begins at the base of the skull and contains seven small vertebrae. Incredibly, the cervical spine supports the full weight of your head, which is on average about 12 pounds. While the cervical spine can move your head in nearly every direction, this flexibility makes the neck very susceptible to pain and injury.
During your visit, your doctor of chiropractic will perform exams to locate the source of your pain and will ask you questions about your current symptoms and remedies you may have already tried. Your doctor of chiropractic will also do physical and neurological exams. In some instances, your chiropractor might order tests to help diagnose your condition. An x-ray can show narrowed disc space, fractures, bone spurs, or arthritis.
Chiropractors are conservative care doctors; their scope of practice does not include the use of drugs or surgery. If your chiropractor diagnoses a condition outside of this conservative scope, such as a neck fracture or an indication of an organic disease, he or she will refer you to the appropriate medical physician or specialist. He or she may also ask for permission to inform your family physician of the care you are receiving to ensure that your chiropractic care and medical care are properly coordinated.
The neck's susceptibility to injury is due in part to biomechanics. Activities and events that affect cervical biomechanics include extended sitting, repetitive movement, accidents, falls and blows to the body or head, normal aging, and everyday wear and tear. Neck pain can be very bothersome, and it can have a variety of causes.
Source: the American Chiropractic Association 2012
The neck is the most vulnerable part of the spine. It has many functions such as to supports a 9 to 12 pound head, it maintains a forward curve, it allows head rotation, and at the same time must also allow the flow of nerve energy to the head, face, hands and the rest of your body. Besides annoyance and pain, chronic neck pain is a sign that something is wrong.
Many everyday things can trigger neck pain, such as watching driving your car, yard work, using your computer, reading a book or falling asleep in a chair or on your stomach..
The most common cause of neck pain are biomechanical abnormalities in the spine resulting from vertebral subluxations. These subluxations are seen in cases of reverse cervical curve, whiplash and joint instability. The body responds by tightening muscles in the neck, "splinting" the joint to protect it from further insult. Chiropractic care can help
Most of the pain-sensing nerves in the neck are located in the pairs of facet joints on the back side of each vertebra. These smooth, interlocking surfaces allow you to rotate your head and bend your head up and down. If these joints become locked or fixated, neck pain can result. Chiropractic care can help restore proper joint motion.
A more difficult problem to correct is the degenerative changes that result from neglect. Years of uncorrected spinal problems can cause bone spurs, disc thinning and other forms of spinal decay. These types of problems respond more slowly, and some type of on-going supportive chiropractic care may be necessary.
Ever meet someone who was a "pain in the neck"? Each of us is susceptible to our body's unconscious response to people and circumstances. These perceptions can show up as episodes of neck pain. Stress and injury often settle into the weakest part of the body.
If the weakest link in our bodies is our neck, stress shows up there. While chiropractic care cannot reduce the stress of your busy life, it can help improve your ability to handle and tolerate it. Without drugs or surgery!