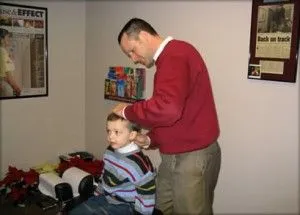 Today's birthing procedures can put tremendous pressures on a child's spine. And while the injury from forceps deliveries may be less common today, vacuum extraction and eager hands can also do damage by pulling, forcing and twisting the baby's young spine even during a C-section delivery.
Chiropractors work with the spine, not always because it's the source of neck and back pain, but because it houses and protects the central nervous system — that system which monitors, controls and regulates all body function, allowing the body to adapt to its environment, both internal and external. When interference exists in the nervous system, called a vertebral subluxation, it may lead to a number of different health problems including chronic reoccurring ear infections. Chiropractors locate this interference and remove it.
Without any language skills to explain, many newborns experience colic, unexplained crying, lack of appetite, frequent ear infections or other signs of poor health such as difficulty in sleeping.
The care of a small child is far different from that of an adult. There are special reflexes that we check, we gently check the motion of the spinal bones and palpate for abnormal muscle tone and if an abnormality is found, with no more pressure than you'd use to test the ripeness of a tomato, nerve-compromising subluxations can be reduced. Quit often, and almost miraculously, many parents see rapid improvements in the well-being of their child.
While we can't guarantee results, our office has a very high success rate with children who have health concerns. Remember, any thing becomes possible when the nervous system is functioning at its best.
If you would like to talk to other parents just like you who have brought their children in for care, please feel free to contact our office and we will be happy to provide you with these references.
Studies
1. A recent study published in the March 29, 2004 peer reviewed journal, The Journal of Vertebral Subluxation Research, (JVSR), showed that chiropractic adjustments had a positive effect on children with acute ear infections. In the study 21 children were examined. All these children showed acute inflammation in the inner ear with a red and bulging tympanic membrane accompanied by an increased mean oral temperature of over 100 degrees F.
The results of the study showed that after the chiropractic adjustments, the red and bulging tympanic membrane returned to normal in 95% of the children and a decrease in average oral temperature to 98.6 degrees F.
A similar story also appeared on the website of the television station, WIS TV news on March 30, 2004 . That story featured a four year old girl Taylor, who went to see a chiropractor for ear infections. According to her mother Taylor had been suffering with about eight ear infections a year. Her mother noted that after two chiropractic adjustments, she hasn't had one ear infection in nine months, "This has been a big great help for us."
The news report ended with the following, "Besides ear infections another study found chiropractic care helps babies with colic. The study reports children cried two hours less after having adjustments than those who received the standard drug treatment."
2 . In the October 1998 issue of the Ladies Home Journal appeared an article entitled, "Chiropractic Adjustments for Chronic Ear Infections" The following information was gathered. According to the article, reoccurring ear infections account for over 35% of all pediatrician visits in the United States . Sometimes these infections are due to bacteria and sometimes these are due to a virus. The most common medical care for this situation has been antibiotics, even though antibiotics have no effect on viruses. While the article mentions that the antibiotic may be effective in an acute bacterial infection, they do nothing to stop repeat infections. Research and statistics is now showing that repeated use of antibiotics is contributing to future infections by creating drug-resistant infections. The surgical approach has met with little long term results as the "tubes" placed in children's ears often come out and usually require a child to be put under general anesthesia to do the surgery.
The article in the Ladies Home Journal states, "Chiropractic care is thought to prevent recurrent infections by correcting misalignments (called subluxations) and allowing normal fluid drainage from the middle ear." What the article took special note of was that 6 months after the chiropractic care was given to the children in the study, 80 percent had not suffered a recurrence of ear infections.
In closing the article did make a profound statement. They made a recommendation to parents on this subject. "If your child is between ear infections and his doctor suggests ear-tube surgery, ask if you can try chiropractic treatment first." While we agree with that sentiment, we suggest you not wait for a period between episodes, and you don't have to "ask" permission from any other doctor to seek chiropractic care. As the sneaker company said, "just do it!"
Chiropractic Care of 401 Children with Otitis Media: A Pilot Study
3 . Found in the March 1998 edition of Alternative Therapies and authored by Fallon and Edelman. (Conclusion) "There is a strong correlation between chiropractic adjustment and the resolution of otitis media for the children in this study, which can serve as a starting point from which those in the