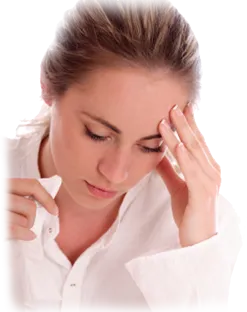 There are many types and causes of headaches. Regardless of the cause, if you have a headache, you want it to end. NOW!
The most common causes are injury or physical trauma, emotional and mental stress, nutritional problems or chemical toxins. Many times there may be a combination of these plus other factors. Our examination process helps identify the most likely cause. Headaches may be common, but they are never normal. Did you know that the majority of head aches are cervicogenic? That means they come from your neck.
As Chiropractors, we locate areas of the spine that are not working properly. We check the proper spinal curves. We look at your posture,your ranges of motion, your x-rays, and many other examinations to help determine if you are likely to benefit from our care.
Your care will consist of a schedule of chiropractic adjustments. These help normalize spinal function, help restore the essential spinal curves, proper motion, improve circulation and reduce nerve irritation.
While we can't guarantee results, our office has a very high success rate with patients who get headaches.
Thought:
Do you think that the cause of a headaches is from a lack of medication? Of course not. With that being the case, why do people continue to treat these complaints by adding more and more of these toxins with the hopes that it will cure them of their ailment?
Wight Study on Recurring Headaches A 1978 study conducted by J.S. Wight, D.C., and reported in the ACA Journal of Chiropractic, indicated that 74.6% of patients with recurring headaches, including migraines, were either cured or experienced reduced headache symptomatology after receiving chiropractic manipulation.
Chiropractors work with the spine, not necessarily because its the source of neck and back pain, but because it houses and protects the central nervous system — that system which monitors, controls and regulates all body function, allowing the body to adapt to its environment, both internal and external."